FlackTek SpeedMixer® - Grinding
Read More
About The Technology
The Machine
The FlackTek SpeedMixer® is a Dual Asymmetric Centrifugal Mixer, also known as a centrifugal planetary mixer. It operates by rotating an angled container eccentrically around a central axis, while the container spins on its own axis in the opposite direction. This motion is similar to that of a planetary mill however, there a two major differences. The first is the accelerations generated; The SpeedMixer is capable of generating accelerations of up to 800 g (where one g is the acceleration due to gravity), whereas planetary mills can typically only generate up to 50 g. The second is that the two planes of rotation are not parallel as they are in a planetary mill but instead form an angle, which introduces a third dimension of acceleration into the system. It is this third dimension of acceleration (not present in a planetary mill) which enables the use of non-spherical grinding rings and makes SpeedMilling™ possible.
Read More
SpeedMilling™ Vs. Ball Milling
Advantages of SpeedMilling™ Over Ball Milling
SpeedMilling™ is an entirely new type of milling technology, which utilizes non spherical grinding rings/cylinders instead of traditional spherical grinding balls to rapidly pulverize samples through a combination of high energy impacts and frictional forces.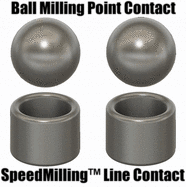 Higher Surface Area Impacts
Contact between grinding rings or a grinding ring and the wall of the grinding jar result in much higher surface area collisions along a line of contact, rather than at a point of contact, as is instead the case for collisions occurring in a ball mill.
Higher Energy Impacts
It is not is not only the contact surface that is higher in SpeedMilling™, but also the kinetic energy carried by the grinding rings and imparted to the sample at the time of impact. The kinetic energy of a moving object is influenced by two variables; Velocity and Mass.
Higher velocity - The SpeedMixer™ accelerates the grinding rings to much higher velocities than are achieved in a ball mill by generating up to 800 g of acceleration, compared to the only 50 g produced by a planetary mill.
Higher media mass - In a ball mill, it is typical to compensate for the relatively small point of contact of an individual grinding ball by using tens and often thousands of balls. However, as the number of grinding balls increases, so to must their size and therefore mass decrease, often to fractions of a gram. Because of the much higher contact area of the grinding rings in SpeedMilling™, it is not necessary to sacrifice weight to use a large number of grinding pieces. As such, the average weight of a grinding ring is much higher than that of a grinding ball.
Lower Temperature
The major source of heat during a milling process is due to friction.
Ball milling - For a planetary ball mill, the production of large amounts of friction is intrinsic to its operating principle and can results in temperatures in the range of hundreds of degrees Celsius. Even in a Mixer Mill, which generally uses less grinding media and therefore creates less friction than a planetary mill, temperatures exceeding 100 ºC are not unusual. When using spherical media in a ball mill, the only way to reduce friction is to reduce the number of pieces of media however, this in turn reduces the efficiency of grinding.
SpeedMilling™ - SpeedMilling™ has a unique advantage in that the ratio of frictional to impact forces can be adjusted by modifying the geometry of the grinding media. This is because by utilizing non spherical grinding rings, the surface responsible for the majority of friction and the surface responsible for the impact force are different and do not interchange orientation throughout the grinding process. By making the bottom surface of the grinding ring rounded, the surface contact and therefor the friction generated between the bottom of the grinding ring and the grinding jar is minimized. This reduces the heat generated without affecting the side surface of the ring responsible for impact force. In applications such as mechanochemistry where the generation of elevated temperatures may be desirable, surface contact can be increased to produce more friction and higher temperatures.
Read More
SpeedMilling Vs. Concentric SpeedMilling Vs. SmartSnap
Overview
The FlackTek SpeedMixer® is the most advanced piece of laboratory equipment on the market for sample preparation and is capable of grinding, homogenizing, and degassing almost any sample. All FlackTek SpeedMixers® are capable of both grinding and homogenization however, this page focusses on particle size reduction and milling applications. For Homogenization and Degassing, click here.
FlackTek SpeedMixer® grinding represents the first true innovation in grinding and milling equipment seen in years. The patent pending SpeedMilling™ technology harnesses the power of non-spherical grinding rings to create ultra efficient high energy impacts, simply unobtainable via other techniques such as mixer and planetary mills . The unique grinding ring geometries produce higher surface area impacts than traditional spherical grinding media, thereby increasing the probability of trapping/crushing material at the impact site and ultimately, the speed and efficiency of grinding. Combine this with the SpeedMixer's ability to generate a jaw dropping acceleration of 800 times that of gravity and what you get is the most powerful and efficient laboratory milling machine on the market - Leaving all other mills in the dust.
________________________________________
Machine Highlights
l Versatility: Three Grinding Machines In One

SpeedMilling™
- Ideal for: Dry milling
- Main mode of grinding: Impact force

Concentric SpeedMilling™
- Ideal for: Wet milling
- Main mode of grinding: Shear force

Mixer Mill SmartSnap™
- Ideal for: Large starting particle size (up to 25 mm ø)
- Main mode of grinding: Impact & Shear force
l Built To Last - 100% Made in the USA
l Easy Operation - Large touchscreen and intuitive user interface.
l Efficiency
- Typical grinding times: 30 sec - 2 min
- Grind up to 3 samples at a time.
- Up to 250 nameable and savable standard operating procedures.
- Up to 10 individual grinding zones per program enables the sequential execution of different speeds and times in a single operating procedure.
- Automatic jar clamping - Jars are secured via the intrinsic forces generated by the machine. No more need for tedious screw-type clamps that jam and break over time.
l Energy Input - Heavy grinding rings and extreme centrifugal accelerations of up to 800 times that of gravity make the FlackTek SpeedMixer® more powerful than any other laboratory mill on the market.
Vendors
At Form-Tech Scientific, we work hard to provide our customers with the best products available on the market. Our products focus primarily on particle comminution but we understand that the needs of our customers in processing their samples sometimes go beyond this. That is why we carry not only our own products, but those of companies that represent innovation and quality in other areas of the sample preparation/processing field.